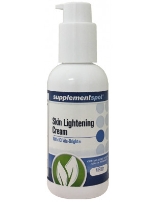 Click to enlarge image(s)
Skin Lightening Cream
$21.33 each for 2 bottles
$20.21 each for 3 bottles
$19.09 each for 4 bottles
$17.96 each for 5 bottles and more
BUY NOW!
Skin Lightener with the Amazing K3 Vita-Bright
Supplement Spot has formulated a new skin lightening cream! It's active ingredient is K3 Vita-Bright (Aminopropyl Kojyl Phosphate) which is more stable than kojic acid and completely water soluble. K3 Vita-Bright is an excellent antioxidant with skin lightening properties that is effective for all skin types and tones. It is also known to increase collagen biosynthesis, or the making of fresh new skin, thus making k3 Vita-Bright an excellent ingredient to be paired up with Supplement Spot's very natural and paraben free cream base.
Product Ingredients
Proprietary Deionized Water, Aloe Vera, Almond Oil, Coconut Oil, Safflower Oil, Cetyl-Alcohol, Glycerol Stearate, K3 Vita-Bright (Aminopropyl Kojyl Phosphate), Vitamin C (L-Ascorbic Acid), Cabopol, TEA, and Optiphen Plus (paraben free preservative)
Suggested Use
Apply to face and hands to lighten and even skin tone.
Cautions
It's best to try Skin Lightening Cream on a non-revealing spot for a week to make sure the cream is working to your liking.
For external use only. Avoid contact with the eyes. Discontinue use if rash occurs. If pregnant or lactating, consult your healthcare professional before using this product. Store in a cool, dry place. Keep out of reach of children.
These statements have not been evaluated by the FDA. This product is not intended to diagnose, treat, cure, or prevent any disease.
Availability
Usually ships the same business day.
Manufacture
Supplementspot