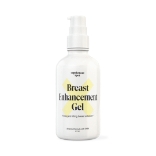 Click to enlarge image(s)
Breast Enhancement Gel with DHEA and Vitamin E, 4 fl oz
$14.49 each for 2 bottles
$13.73 each for 3 bottles
$12.97 each for 4 bottles
$12.20 each for 5 bottles and more
BUY NOW!
Breast Enhancement Gel with DHEA and Vitamin E is an Anti-Aging Hormone Cream
Herbal creams and supplements are sold with claims their use will increase the size of women's breasts. There is not an iota of scientific evidence supporting these claims. There is one exception: SupplementSpot's Anti-Aging Hormone Cream. The use of our cream is supported by a published scientific evidence that breast size has a direct correlation to a woman's DHEA levels. The higher the level of skin DHEA, the larger and firmer the female breast. The same studies explain the reason many women lose firmness and tone in their breasts as they age. This is because after age 25 the body's natural production of DHEA declines and nearly ceases after menopause. The studies supporting these conclusions include the Japanese Journal of Pharmacology, Vol 69, pp. 7893-7899, where a carefully controlled test correlated female breast size with DHEA levels. Women who supplement their body's natural DHEA levels have firmer breasts and experience less loss of breast tone. We recommend that our cream be applied to the breast twice daily as part of your anti-aging skin program. Breast size, firmness and tone may be significantly augmented and restored to a youthful appearance with the application of our Anti-Aging Hormone Cream with DHEA.
Ingredients
Ingredients: Purified Water, DHEA, Wild Yam Extract 15%, Epimedium Extract, Guarana Seed Extract, Damiana Extract, L-Arginine, Carbopol, TEA, FD&C Red #4, Optiphen Plus (a paraben-free preservative)
Dosage
Directions: Apply twice daily to breasts to restore and enlarge the breast over a 60-120 day period. Restores the vital hormone DHEA lacking in women with smaller breast.
Cautions
Not to be used when pregnant or lactating.
Availability
Usually ships the same business day.
Manufacture
Supplementspot
| | |
| --- | --- |
| 1 - 1 | |
| 2 - 2 | |
| 3 - 3 | |
| 4 - 4 | |
| 5+ | |