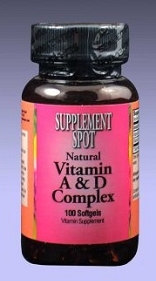 Click to enlarge image(s)
Vitamin A & D, 100 softgels, 10000 IU
$6.65 each
BUY NOW!
Vitamin A&D is an essential vitamin supplement, providing kids and adults with the necessary quantity of vitamin a and vitamin d, what helps to strengthen bones
Overview
Vitamin A was first 'discovered' in 1913, when scientists found it could prevent night blindness. Then, in 1932 it was determined that beta-carotene, also known as pro-vitamin A, was the precursor to vitamin A. When we consume beta-carotene, vitamin A is produced naturally by enzymes in the digestive tract that digest beta-carotene. The fat-soluble vitamin A is then stored in the liver, where it can remain for long periods of time. Vitamin A occurs naturally only in animal products like liver, kidney, butter, egg yolks, whole milk and fortified skim milk.
Vitamin D, calciferol, is a fat-soluble vitamin. It is known as the "sunshine" vitamin because it is formed in the body by the action of the sun's ultraviolet rays on the skin. Vitamin D is converted in the kidneys to the hormone calcitrol, which is actually the most active form of vitamin D. The effects of this hormone are targeted at the intestines and bones. The major biologic function of vitamin D is to maintain normal blood levels of calcium and phosphorus. Vitamin D aids in the absorption of calcium, thereby helping to form and maintain strong bones. It promotes bone mineralization in concert with a number of other vitamins, minerals, and hormones. Without vitamin D, bones can become thin, brittle, soft, or misshapen.
Our Vitamins A & D offers the convenience of one softgel providing 10,000 IUs of Vitamin A and 400 IUs of Vitamin D.
Dosage
The RDA for Vitamin A is 5,000 IU. The RDA for Vitamin D is 400 IU.
Cautions

If you are pregnant or lactating consult a health care practitioner before using Vitamins A & D.
Both Vitamin A and Vitamin D are fat-soluble nutrients and can accumulate at toxic levels in fatty tissue, avoid excessive intake of these nutrients
Studies indicate a possible relationship between high vitamin A intake from foods and supplements and the risk of hip fracture among postmenopausal women
Doses greater than 10,000 IU of Vitamin A have caused birth defects, particularly during the first seven weeks of pregnancy. Women who could potentially become pregnant should limit their daily vitamin A levels to less than 10,000 IU daily and consult a health care practitioner to determine an appropriate dosage.
Occasional side effects reported with large doses of Vitamin D include a disorder known as hypercalcemia, which causes calcium deposits in soft tissues. Signs of the disorder include headache, weakness, nausea, vomiting, confusion, kidney problems and constipation. Consult a health care practitioner if you experience any of these symptoms while taking Vitamin D.
Availability
Usually ships the same business day.
Manufacture
Supplementspot