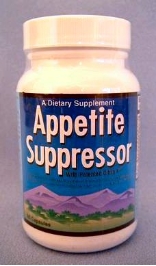 Click to enlarge image(s)
Appetite Suppressor: $14.95 each for 2 bottles
$13.95 each for 3 bottles and more (save up to 60%)
EPHEDRA FREE HERBAL FAT BURNER AND APPETITE SUPPRESSOR
Fat Burning and Weight Loss Supplement
BUY NOW!

The most potent natural Appetite Suppressor available is specially formulated to suppress your appetite naturally and safely. No dangerous drugs, just wholesome herbs, vitamins, and nutrients. The product of years of research, and extensive testing, it contains a blend of nutrients and herbs including Citrin K (HCA), chromium picolinate, B complex vitamins that aid in the breakdown of fats, and the powerful antioxidant vitamin C and pregnenolone, the most powerful memory enhancer yet discovered.

This product is comparable to and more effective in long-term use than the heavily promoted METABOLIFE, except it does NOT contain controversial ephedrine, which has been linked to possibly lead to serious problems for people with high blood pressure, diabetes, or heart disease, especially if consumed in amounts necessary to suppress a healthy appetite. Moreover, our Herbal Fat Burner and Appetite Suppressor is less than 1/2 the price of Metabolife.

Citrin K (HCA) is a patented extract of the Indian Brindall Berry (garcina cambogia) that has been found to dramatically increase the body's ability to convert food into glycogen. Glycogen is the body's fuel for energy consuming activities. When you have lots of glycogen in your body it triggers a signal to the brain telling it to suppress your appetite. The result is a marked decrease in the craving for fattening foods. In addition, Citrin K's active ingredient slows the production of fat. This results in your cells burning it for energy at a faster rate. Not only do you eat less fat, but you also burn it faster. This has been proven by scientific double-blind studies conducted by Anthony Conte, M.D. Those participating in the study took 500 mg of Citrin K a day. After 60 days the average weight loss was 11 pounds. We recommend that you take 1500 mg per day of this very safe product to lose weight even faster. Citron K is also known as HCA.

By reducing fat intake and burning off the fat already on the body, our Appetite Suppressor will significantly reduce LDL type cholesterol.
In addition to 120 mg of Citrin K, each capsule of Appetite Suppressor contains the following nutrients and herbs:
Chromium Pincolinate, 75 mcg, is an essential cofactor for the hormone insulin, which regulates the metabolism of protein, fat and carbohydrates.


Pantothenic Acid, 10 mg, is a B vitamin that is an important catalyst in the breakdown of fats, carbohydrates, and proteins for energy.


Biotin, 150 mcg, is absolutely essential in several body processes that breakdown body fats, amino acids, and carbohydrates.


Vitamin B12, 6 mcg, is necessary for the processing of carbohydrate, fat, and protein in the body. It also is essential in the formation of neurotransmitters, chemicals that facilitate communication between nerve cells.


Vitamin B6, 2 mg, is also required in the building and breakdown of carbohydrates, fats and proteins; it is essential for good health.


Vitamin B1, 1.5 mg, also known as Thiamine HCI, is required for the functioning of all body cells, especially nerves. Besides being essential to the breakdown of fats, proteins and carbohydrates, taking Vitamin B1 increases reaction time and eye-hand coordination.


Vitamin B2, 1.7 mg, Riboflavin, is essential for the release of energy from body cells and is known as an anti-depressant.


Niacinamide, 20 mg, functions in more than 50 body processes and is primarily involved in the release of energy from carbohydrates. It also is known to aid information of red blood cells and to help in the detoxification of dangerous drugs and chemicals.


Folic Acid, 400 mcg, is a vitamin that helps regulate the cell's genetic code. It is essential for the normal growth and maintenance of all cells.


Vitamin A, 10,000 I.U., known as beta-carotene, stimulates the immune system and is a powerful antioxidant.


Vitamin C, 500 mg, has long been known as the vitamin that aids in the treatment and prevention of colds. It is a potent antioxidant that is essential in the prevention of heart disease, diabetes, and arthritis.


White Willow Bark, 100 mg, relieves pain and reduces fever. It aids in the reduction of "hunger pains" and cravings for fattening foods.


Pregnenolone, 10 mg, is a hormone produced by the body that decline with age. It is a potent memory enhancer and provides a feeling of well being that greatly assists in the loss of excess body weight.
Brand
Supplementspot.
Serving Size :
| | | | |
| --- | --- | --- | --- |
| Ingredient | Quantity | Measure | RDA * |
| Vitamin A | 3394 | I.U. | |
| Vitamin C | 166.67 | mg | |
| Thiamine | 0.5 | mg | |
| Riboflavin | 0.57 | mg | |
| Niacin | 6.67 | mg | |
| Vitamin B6 | 0.56 | mg | |
| Folate | 133 | mcg | |
| Vitamin B12 | 20 | mcg | |
| Biotin | 50 | mcg | |
| Pantothenic Acid | 3.333 | mg | |
| Chromium | 25 | mcg | |
| Garcinia Cambogia Extract | 116 | mg | |
| Pregnenolone | 3.33 | mg | |
| Other Ingredients: Microcrystalline Cellulose, Ascorbic Acid, Gelatin, White Willow Bark, Beta Carotine, Silicon Dioxide, Niacinamide, Magnesium Stearate, Calcium Pantothenate, Folic Acid, Pyridoxine HCL, Riboflavin, Thiamine Mononitrate, Biotin, Chromium Picolinate,Sodium Lauryl Sulfate, Colloidal Silicon Dioxide, Purified Water, Cyanocobalamin. | | | |

* RDA means the Recommended Daily Allowance established by the U.S. Food and Drug Administration. This is the minimum daily amounts of specific essential nutrients necessary for healthy adults 18 year of age. Requirements increase with age and the RDA may be insufficient for older adults or those with poor health
Availability
Usually ships the same business day.